Pre Build - "Real Deal 416" DSG Variant
Regular price
$899.99 USD
Regular price
$999.99 USD
Sale price
$899.99 USD
Unit price
per
This is the DSG variant of the Real Deal 416 Build 
350 fps with .25 
40 rps 
This Build is a more budget friendly option that is focused on Semi Auto indoor use. The Trigger has been tuned to just a few mm of play. 

Fully Ambidextrous - Sling Points - Selector Switches - Bolt Catch and release - Magazine Release
Bonus Features - 2x Magazines - Stubby Stock - Real Deal Damascus Laser Engraved Texture on Dust Cover 
Real Deal Performance Piston Assembly
Real Deal Stabilizer O Rings
Golden Boi 2.0 Motor

FLT Steel Bushings 8mm
Real Deal DSG Gearset

Jefftron Optical Mosfet
Jefftron Trigger Curved Red
SHS Spring
Perun Adjustable Nozzle
Maple Leaf Omega Hop Tensioner
Maple Leaf Macaron Bucking
ZCI 6.02 Steel Tight Bore Inner Barrel
Reinforced Tappet Spring
Stubby Stock for Amazing Battery Storage
Vertical Rubberized Grip
Laser Engraved EPM 150 Magazine
Metal High Capacity Magazine
G&G G2 Quick Spring Change Gearbox
Custom Gun Card / Certificate of Authenticity
 This is a high rate of fire, super fast  cycle time orientated build, designed for the indoor player. Engraved on the inside of the dust cover reveals the words CQB Clapper and that is exactly what this build is. Semi Spam Your Heart Away 


11.1 Battery is required for this build as well has high quality bbs  AVOID LANCER BBs   .25-.32 recommended
1 Year Warranty.  


You have the option to have your name Laser Engraved into the Receiver  
Orange Tip has been modified so that it is Easily removable. It is Tracer Ready. Real Deal Details!
Share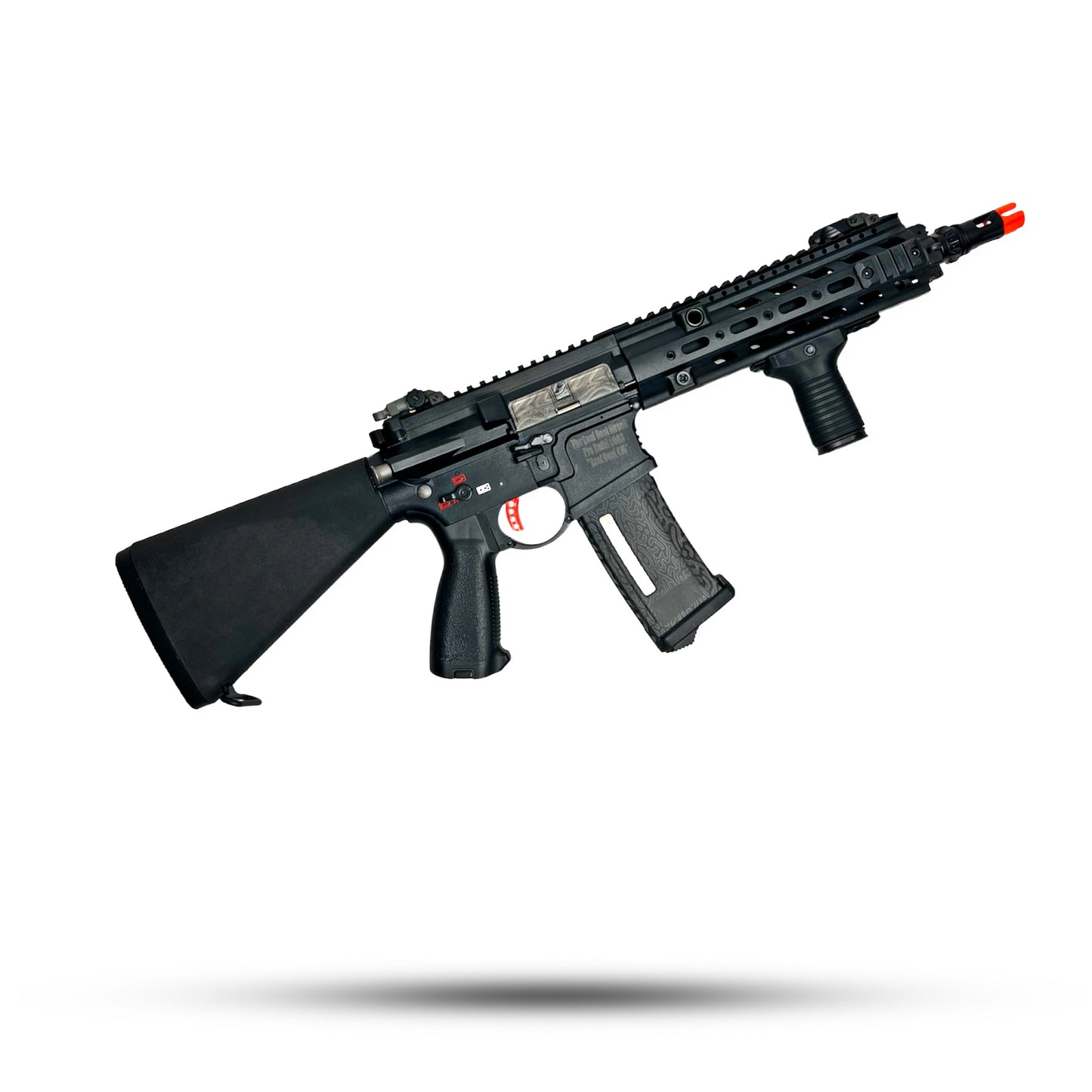 THE REAL DEAL
I knew nothing about DSG builds but wanted a reliable and fast shooting build and this guy got it already played 3x with this DSG and nothing but smiles to my face thinking of selling my HPA and making another DSG. The price is just right in my opinion and it's cheaper than Umbrella Armory!
Shoots around 350 with .25 perfect for my indoor field
Build time is around 1-3 weeks
Laser beam with them tracer rounds
Best of all doesn't put a strain on your back, unlike an HPA tank