T238 Brushless Motor
Regular price
$109.00 USD
Regular price
Sale price
$109.00 USD
Unit price
per
T238 Brushless 33k Motor 
Motor body material: CNC Aluminum precision machining
Motor gear: D type
Brushless, low heat at high output
Long service life, battery temperature
Emergency stop after power failure, no buffer, stable output
Overheat protection, low voltage protection, locked rotor protection
Stepless speed regulation (range 50-100%) can be adjusted through the potentiometer of the small hole in the tail cover.
These t238 Brushless Motors also come with replacement tabs and a screw driver for the grub screw on the pinion. The RPM can be adjusted via a small screw in the endbell 
Share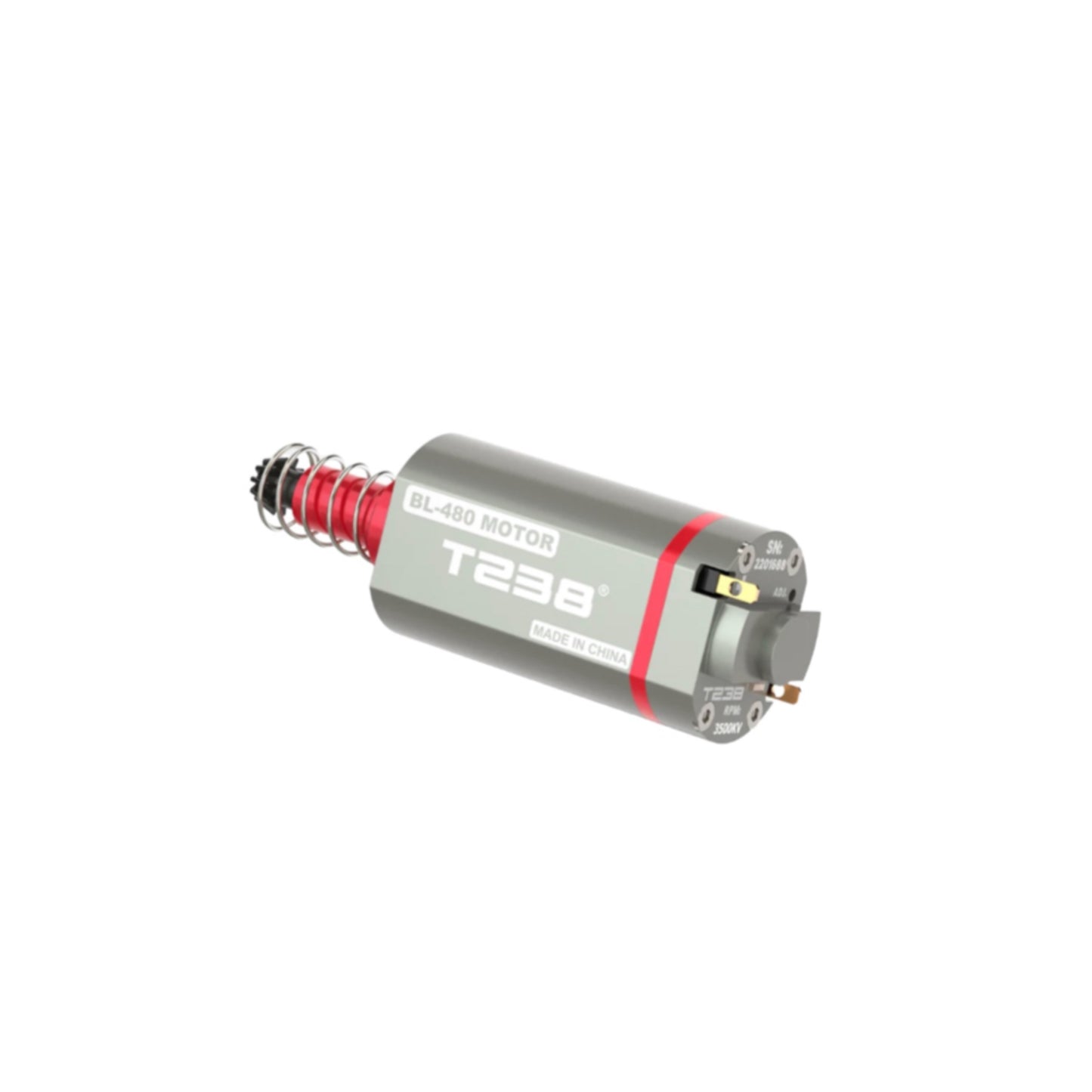 Best Brushless motor!
This Brushless t238 is the best I have tried so far. comparing it to the WarHead brushless the t238 fixes all the warhead issues. It is cheaper, more reliable, has better pinion gear, and adjustable speed, and works well with the Gate Titan v2, Gate Titan II BlueTooth, and Perun Hyrbrid V2.
While brushless is insanely good/efficient a few things to note.
-brushless SSG's will need reshimming (bevel to pinion never spur method of shimming)and tuning of the gearbox
-Brushless DSG's need a ton of tuning and i would never recommend sending it to a field tech.
only specialized techs such as the real deal. Brushless DSG's are very hard to tune and get shooting.
Now one may ask the difference between brushless vs brushed DSG's well the biggest issue is the timing of the tappet plate, nozzle, piston assembly, and mag springs, after tuning though these are absolutely beast.
in Conclusion, this t238 is the best brushless in every way, it can give an amazing performance on an SSG and a DSG it just requires a specialized tech (some techs may not be up for the issues it'll cause when tuning)
I am a tech located in SC USA if youd like me to build you one or anything hit me up at [****], 8034042041, 6mmcustoms.com. or the HopUp app at Isaac Hewitt.
Will NOT answer calls!